The 2021 Subaru Love Promise Customer and Community Commitment Award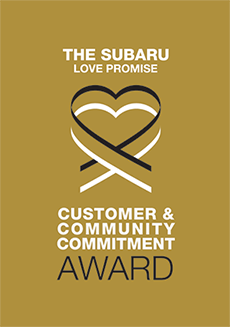 We've been nationally recognized for our dedication to our customers, our community, and the Subaru Love Promise.
We're honored to receive the 2021 Subaru Love Promise Customer and Community Commitment Award. This award nationally recognizes elite Subaru retailers who provide an exceptional customer experience at every interaction with Subaru. These retailers have also demonstrated an outstanding commitment to supporting passions and causes in their local communities in important areas such as the environment, community, health, education, and pets.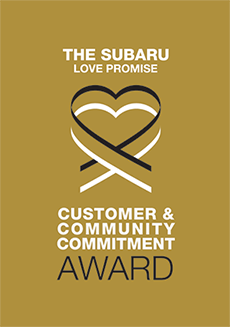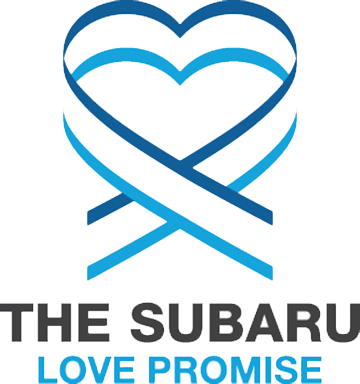 What is the Subaru Love Promise?
Subaru and our retailers believe in making the world a better place and the Subaru Love Promise is our vision of respecting all people. This is our commitment to show love and respect to our customers and to work to make a positive impact in the world.
How is North Park Subaru dedicated locally to the Love Promise?
Our Love Promise can be seen in various partnerships with local charities and non-profits. We're grateful for the opportunity, not only to be a part of our community, but to serve it as well.
Animal Defense League of Texas
Love Promise Stories from North Park Subaru
Subaru and North Park Subaru believe in making a positive impact on the communities in which we live and work. We uphold that belief through our Love Promise Community Commitment. Every month, we select inspiring stories from customers and partners from around our area who strive to support our collective commitment and feature them here
Serving More than a Meal in a Pandemic - Forrest M
During a food delivery this summer, a client named Jim shared that MOW volunteers and staff were the only people he would see during the lockdown. Jim asked his family to stop visiting him "for the time being." Because he's in his 90s, he knows he is at higher risk. Amanda, a member of the Meals on Wheels San Antonio staff, reflected on his comment by saying, "we cannot assume that the seniors we serve are getting help from their children, friends, or relatives. They are counting on Meals on Wheels now more than ever." The COVID-19 Pandemic created unique challenges for businesses, nonprofits, and individuals across the globe. Through these challenges, the Subaru vehicle donated to Meals on Wheels San Antonio (MOWSA) continues to provide critical support for seniors in the community. MOWSA has expanded services throughout the pandemic to meet the growing need in San Antonio. Since March, the agency has welcomed 1,722 new clients into the meal delivery program while also increasing the amount of meals in each delivery from five meals per week to seven. To better serve this growing client base while protecting the health of seniors and volunteers, MOWSA successfully consolidated delivery routes and moved to a central distribution point for delivery drivers. The Subaru vehicle was critical during this consolidation in Q4 of this grant cycle. With many volunteers staying home, the branded Subaru transitioned from event appearances to directly supporting daily meal delivery. Utilizing the Subaru to deliver meals allows the vehicle to travel different areas of the city every day with longer delivery routes due to the consolidation efforts. This allows for maximum visibility in the community. The importance of community visibility and word of mouth recommendations are more important than ever. In spite of the growth in 2020, MOWSA has seen doctor and caregiver referrals decrease dramatically during the pandemic. With restrictions in place, many homebound seniors are not receiving regular medical care or visits from social services. These partners are critical for identifying individuals who need the services of Meals on Wheels. Thanks to the co-branded Subaru, MOWSA has a consistent, tangible presence in neighborhoods throughout the service area which has increased the number of community referrals from the friends, neighbors, and family members of potential clients.
---
Senior Subaru Pet Star Find His Furever Home - Michelle T
North Park Subaru graciously sponsors a pet from The Animal Defense League of Texas every week and covers their adoption fee. Each week ADL brings these pets to North Park for a little field trip where a photo is taken with one of their amazing staff members and shared on social media. This added exposure and adoption incentive proved to benefit Gramps, a 7-year old Saint Bernard Mix who had been at the shelter for over 2-months after being found as a stray. His new family saw his photo and that same day, came to take him home! We are so grateful for North Park Subaru's support of ADL and help in finding these loving pets their furever homes.
---
Ground Breaking Trail! - Veronica M
Nothing brings people together like the Great Outdoors! January 12th was a great day for local Mountain Bikers when a new trial was opened! The South Texas Off-Road Mountain Bikers came together to throw one heck of a Trail Breaking! With City Council Representatives, Trail Runner Associations, REI, North Park Subaru, countless snack and water stations, and a chance to try the new path, it was a huge celebration. North Park Subaru and REI worked together to provide water, snacks, a space to recycle and some shade for those who were finishing the trail ride. (Some loved it so much, they went twice!)
---
Christmas Joy! - Patti A
Christmas is truly the time for giving. North Park Subaru leaned into the giving spirit with an Adopt-A-Family program. Through the local head start program, a family came forward that was in need. Asking for toys, clothes and necessities for the kids; tools, cooking materials and clothes for the adults, North Park Subaru spent the time to meet with the family, get to know the kids and find the items that would truly leave the family with a Christmas they will never forget. I've never seen an Ascent so full! Seeing the joy on the kids faces helped me know that North Park Subaru was really looking to spread Christmas Cheer.
---
Spreading Hope - Amanda M
In the summer of 2019, North Park Subaru worked with the Leukemia and Lymphoma Society to deliver messages of hope, blankets and activity kits to patients at the Methodist Hospital. While the blankets were on display in the dealership, customers and employees wrote messages of hope and inspiration to share with the cancer patients. Over 100 Blankets were given to the patients who are staying in the hospital as they recover. Going to meet the cancer patients and their families was an incredible experience. Sharing hope, positive messages and support made the day for everyone involved. Truly a life changing experience for us all.
---
Share the Love- Animal Defense Leageu - Patti A
From December to January, North Park Subaru celebrated Share the Love with our Hometown Charity, the Animal Defense League. Animal Defense League is a non-profit, no kill animal shelter that supports dogs and cats with all medical needs until they find their forever home. With the support of our North Park Subaru Family, we donated a total of $22,239. We had the opportunity to present the check to the President of the Board at their annual FurBall in March of 2019. This donation gave the Animal Defense League the funds to support the adoption and medical costs of over 400 pets. Every week, we support the adoption fees of one dog to find their furever family. So far, we have gotten 276 pets adopted!
---
My latest Subaru Purchase Experience - Rene R
Dear Subaru Management: I am writing to thank you for the quality of service provided by the North Park (NP) Subaru team of professionals, especially Mr. Rene Ramirez and Mr. Derrick Pathoumthongkh. I sincerely appreciate their efficient, gracious customer service, the level of detail and accountability they have demonstrated throughout the purchase process, and the way your team conduct business. Specifically, in late July 2019 I came into NP dealership to trade in my 2017 Forester. I had my eye on a new sporty 2019 Forester (with all the bells and whistles) not to mention the perfect color. I met Mr. Ramirez who approached me with the opportunity to test drive the model I wanted. Although I didn't purchase my Forester then, it was his genuine kindness and respect I remembered when I left that day. He followed up with a call a few days later to address my questions and concerns about price negotiations and Takata airbag recalls. Additionally, Steve Hernandez (Lead Sales Floor Manager) contacted me to negotiate my trade and purchase price. On 1 August I purchased my new Forester! Soon after, I requested a tech coach to review all the new safety features (a service I am happy existed), because of (the aforementioned) bells and whistles. I was pleasantly surprised to meet Mr. Derrick Pathoumthongkh. A young man with a wellspring of knowledge and a set of interpersonal communication skills worthy of his position. In my opinion, Derrick is a valuable member of your customer service team and you should be aware of the important role he plays in customer satisfaction seen as above and beyond.I have, and will continue to, recommend North Park Subaru services to other companies and contacts. I could not be more satisfied with the level customer service and I look forward to continuing my relationship with NP Subaru as a proud owner of my second Forester. Sincerely,Felitcia K. Cruz, MA, USN (Ret.)
---
Local Nonprofits Share their Love for Subaru - Janet K
San Antonio nonprofits share the love for Subaru and all they do for the community. "When we share the love, we all win," according to the 11-year campaign by Subaru to make a difference in local markets across the country. Two San Antonio nonprofits were able to demonstrate their appreciation for Subaru and the Share the Love® campaign at their annual fundraisers. Over 400 community members attended the Meals on Wheels San Antonio "Let's Do Lunch" event on March 29, 2019, at the Mays Family Center at the Witte Museum. And just the night before, the Animal Defense League held their annual Fur Ball at the same location. Both charities participate with Subaru in their efforts to support local charities. North Park Subaru provided the vehicles for display at the event, continuing their commitment to making a difference in our local community. Last year, Meals on Wheels San Antonio provided over 1 million homebound seniors with the nutrition and companionship they need to age without fear of hunger and isolation. For these vulnerable seniors, the Meals on Wheels volunteer's daily visit keeps them healthy, connected to their community and able to live independently in the place they love most: their home.
---
A Hole in One for Cancer Patients - Jacqueline R
On July 5th, Enrique Palacios, and a few of his friends from North Park Subaru scored a hole in one in making a difference in the lives of patients at Methodist Adult Oncology. The Subaru crew delivered blankets, messages of hope cards, and arts & crafts, along with a much-needed lift. Methodist's Supervisor Psychosocial Programming, Nikki Yuill, was extremely touched when asked to accept blanket donations from Subaru's Loves to Care program. "We are beyond grateful to have these blankets donated. Many of these patients cannot leave their rooms for 3 months after they are diagnosed with cancer. Your presence, donations, and encouragement will definitely bring them a smile." LLS mascot, Buster the Blood Drop, was also on hand delivering smiles to the many patients there that day. As we were heading into one of the patients' rooms, we were told that Methodist is the only adult program in San Antonio and the first Foundation for Accreditation of Cellular Therapy (FACT) stem cell transplant program in North America. As we went into the patients' rooms, Enrique wished them a speedy recovery and even shared his story about his mom who went through Stage 4 Ovarian Cancer and was in treatment at Methodist. "My mother was in good hands here with these amazing staff. Thank you for letting these excellent doctors and nurses help you through this difficult journey." Enrique also made sure each patient felt comfortable by asking the patients questions such as their hobbies. One pediatric patient said his favorite hobby was golf and had been playing since he was five years old. Enrique then said, "When you get out of here, you and I need to play some golf together. I need all the practice I can get from the pro!" It was such a wonderful experience to not only see the patients smile, but hearing all of the words of encouragement and support offered by Enrique, his staff, and Methodist Hospital staff. North Park Subaru has happily decided to sponsor a total of $5,000 for our San Antonio Light the Night. The North Park Subaru crew said it best, "San Antonio isn't just a community, but a family. We are here to help in any way we can."
---
Larry - Kristin R
On a Tuesday afternoon, Vinsen Faris, Meals on Wheels San Antonio CEO, parked the Meals on Wheels branded Subaru outside the home of a new Meals on Wheels client. Since joining the Meals on Wheels fleet in November of 2017 – the Subaru Outback has visited numerous homebound individuals. Having a branded vehicle with good mileage that can manage both inside the city and on rural streets has proven a great boon for Meals on Wheels San Antonio. Clients, both prospective and current are reassured when they see the Subaru pull into their driveway. The client being visited today is no different. Larry greets his visitors enthusiastically and quickly inquires about the vehicle. Cars have always been a passion for Larry who bragged he once owned a bright yellow 2005 Chevy SSR hard top convertible show truck. Larry is 67 and except for his cat, Lulu, he lives alone. Through a series of life events, Larry has found himself in San Antonio barely able to walk- much less prepare a balanced meal for himself. He has lived in his current apartment for 5 years, and after a rough patch with cancer, he finally admitted he needed help. Larry is living month to month on Social Security. After paying bills he doesn't have much left for groceries. A caseworker suggested he look into Meals on Wheels. He was surprised how quickly he heard back. "They called me the next day! And not long after I received my first meal!" Larry has now been receiving meals for just over a month and is pleased with the program. "The variety is incredible!" He is now regularly eating fruit and vegetables thanks to the dietitian-approved menu. He loves his cat and is thankful for the companionship she provides, but she does not replace human contact. "Meals on Wheels has helped so much" he shares with a smile, "It's not just the food- it has changed my mental outlook." With the meal comes a volunteer with whom he can chat about cars. "I have something to look forward to each day- I'm not as lonely now."
---
Civic Engagement - Forrest M
Meals on Wheels San Antonio serves the seniors of Bexar County hot meals and warm smiles every Monday through Friday. Volunteers come from all walks of life to bring food to these new friends. Clients have shared how much they appreciate the break in isolation that the volunteers provide. They bring a tangible connection to the outside world, exchanging stories of loved ones and friends with the seniors. Every so often, Meals on Wheels is graced with a more recognizable volunteer: a city official. Having the Subaru allows Meals on Wheels leadership to escort the official through the meal delivery process. This eases issues of timing and logistics all while providing a large, comfortable and mission-branded vehicle in which they are fully immersed in the Meals on Wheels experience. Most recently, District 1 Councilman Roberto Trevino, visited his home bound constituents, bringing a hot lunch and also news from his district. The face-to-face interaction is beneficial for both the senior and the civic leader. It serves as a connection for each, strengthening their understanding of one another and prompting the councilmembers to implement better policies keeping these seniors in mind. Subaru has made these important connections possible!
---
Mary's Story - Forrest M
Twenty years ago, Mary started her career with Meals on Wheels. She loved the mission and wanted to be part of an organization that helped seniors."My mother received Meals on Wheels. It was important to me to give back." Mary is not alone in her sentiments. San Antonio is the seventh largest city in the nation. But it doesn't feel that way. This city is built by people who believe in community first, neighbors help each other. San Antonio is one of the most philanthropic cities in this nation. Mary loves living in San Antonio, and she loves being part of Meals on Wheels. Mary runs the kitchen at Meals on Wheels. The kitchen is the most vital part of the agency, and Mary is the heart. Each morning she wakes up at 3:00am in order to be there, cooking, plating the meals and ensuring that taste and presentation of the food is at the forefront of everyone's mind. "If the food doesn't look good, and it doesn't taste good, they won't eat it. And if they don't eat it, then we've failed." Mary is such an important part of Meals on Wheels. She believes so strongly in what she does every day. Her energy and commitment to the seniors in her community is contagious. "Everywhere I go, people know Meals on Wheels. They know our mission. They believe in us." Subaru believes in this mission. Because of Subaru, seniors like Mary's mom are able to receive a hot, healthy meal and a smile. Sometimes it is the smile they need the most. So many of the individuals served by Meals on Wheels live alone, struggling with hunger and loneliness. A volunteer with a meal is a new friend. In addition to providing much needed socialization, they also offer a wellness check. Fall risks can be a large concern for seniors, especially when they live alone. Knowing that someone will be there helps meal recipients feel safer. Mary said that was the biggest relief for her. "Knowing that my mom would never be alone for more than 24 hours was a huge relief for us. I was so worried she wouldn't be able to live alone because she would forget to eat or would fall, but because of her caring volunteers and the healthy meals, she did it." Having Subaru as a partner is just as reassuring as Meals on Wheels has been for Mary. Knowing that a like-minded friend is there helps Meals on Wheels to thrive in a community where working together is such a core value.
---
Methodist Hospital Visit - Jessye P
On July 14th, the three representatives from North Park Subaru came to the Methodist Hospital, they were eager and excited to meet the patients and reiterate their commitment to serving the community by spreading love, hope and warmth by delivering blankets, arts and craft kits and messages of hope to patients fighting cancer. In San Antonio, the Spurs are a legend and what brings the community together. However, what brought Subaru, LLS , and Mr. Esparza together, was the blankets and his Spurs cap. Mr. Esparza explained that he was a regular at Methodist Hospital who enjoyed the food, the ability to do arts and crafts and most importantly, the ability to engage with people who were supporting his fight for remission. He stated that he was hopeful that he'd be able to leave the hospital one day. He also elaborated on the burden cancer has placed on his family, but still remains positive and commented on how he enjoys having people by his side. As he sat in his hospital gown, his face lit up with a big smile as he was handed a Subaru blanket and a message of hope from someone in the community rooting him to continue fighting. The representatives were extremely grateful for having had the opportunity to actually meet with patients whom they were directly impacting with their blankets. This simple act of kindness reinforces the importance of continuing an ongoing partnership between LLS and Subaru.
---
Subaru and NWF Love the Earth! - Susan H
We dedicated two 8' x 4' garden plots as "wildlife habitats". These plot contain Texas milkweed plants in addition to the new ones you sent us. The transplants are thriving in their new home. Yesterday, a black swallowtail butterfly was checking them out!
---
North Park Subaru Rescue Ride! - Chad B
Did you know San Antonio is the largest U.S. city to achieve "No Kill" status? (90% of dogs taken in must find homes via adoption for this designation, a very high bar, and also a worthwhile one!) More and more dogs keep coming into shelters though: we all need to do our part. Be responsible pet owners: don't drop them off when they become "inconvenient" - dogs are family! And, definitely, when you are ready to add that next family member, please consider adopting!! North Park Subaru was happy to help out our local partner, Animal Defense League of Texas, when they were in need of a replacement van (to rescue dogs from the euthanasia line at the San Antonio city pound). Our donated "Rescue Ride", very spacious and covered in lovable paw prints and photos of previous ADL residents (who have since found their "forever homes" via adoption), will allow for many more animals to make it to ADL's campuses. There, they will be fed, sheltered, vaccinated, cured of disease if need be, loved, and prepared for meeting their next family. It's surely a new way to rescue more furry lives! #ShareTheLove #AdoptDontShop
---
"Pet Star of the Week" social campaign - Chad B
Animal Defense League of Texas & North Park Subaru developed a "Pet Star of the Week" campaign, jointly promoted on each organizations' social media (Facebook, twitter & Instagram) to shine a light on the need to "Adopt, Don't Shop!" ADL first picks out the pet to be featured, and their photographer brings the dog to North Park for a photo session w/ a different employee, and a different Subaru each week! Through the 1st 19 weeks, 17 "Pet Stars" were adopted, and thousands of people viewed, "liked" & "shared" the stories. Dozens of other pets who weren't featured "Pet Stars" also found homes, as a result of this increased awareness! A couple notable stories: - Primrose had been at ADL for 9 months when she was featured: overlooked by potential adopters because although super-sweet, she was also quite shy. Within 24 hours online as our "Pet Star", a family came in specifically for her. They observed that Primrose, while hanging back in the kennel, did so with a friend (Montego, who was also shy). Together they came out of their shells, were very confident and playful. Instead of separating them, the family adopted them both! - Booker was brought to ADL in December as a stray. His owners (who had lost him) saw his campaign, and thus "found" him! ADL of Texas' 5,002 pet adoptions in 2015 was a 25% increase over 2014, setting a new annual record for them. They credit North Park Subaru's partnership, and this unique campaign, with enabling them to share so much love!
---
Animal Defense League "Beds & Bowls" project - Peggy C
The Beds & Bowls Project was the final touch needed to supply the new Community Kennels and Puppy Building with Kuranda beds and stainless steel water buckets and food bowls at the Animal Defense League of Texas. The project was conceived in 2012 in response to the homeless animal crisis in San Antonio. The citys Animal Care Services division determined that they did not wish to build more "kill" kennels and did not want to have to worry about funding operations in the future for the new buildings. They submitted an RFP to all local shelters and rescue groups and ADL of Texas was awarded the kennels. Fast-forward to 2014 and the kennel construction is complete, adding 2 large kennel buildings that have 54 new double-sided kennel runs (inside & outside access). In response to the dire need to rescue more puppies (40% of euthanized dogs and cats at Animal Care Services are puppies and kittens), ADL of Texas added a third building to the project, a Puppy Building that can safely and humanely house up to 72 rescued puppies. North Park Subaru provided the final vital components a place to sleep, eat and drink! Thanks to the generous grant provided by this community-focused business, we are able to keep our commitment to rescue an ADDITIONAL 3,162 dogs, puppies, cats and kittens from the euthanasia lines each year. Thanks to them, more furry lives are saved, but also more human lives are transformed as they find a companion that forever changes their lives.
---
Texas Public Radio (TPR)'s "All Pets Considered" - Wendy W
Texas Public Radio (TPR), who we've had an advertising partnership with, recruited us to be a lead sponsor for their community service event, "All Pets Considered" on July 13th, 2014. This family-friendly event was free to the public, and held at the new Paul Jolly Center for Pet Adoptions (near the San Antonio Zoo). The purpose of the event was to educate attendees on the various ways they can get involved in pet adoption and fostering, and to promote responsible pet ownership. Activities included: micro-chipping clinic, actual pet adoptions, animal behavior presentation ("Ask the Trainer"), dog agility course demonstration (attendees were encouraged of course to bring their pets) and more. North Park Subaru had employees volunteer to help at the event, and we brought an Outback with pet carrier accessories. Many Subaru owners or considerers were at the event, and seemed appreciative of our support of TPR and animal adoptions. TPR's "All Pets Considered" event definitely provided us an opportunity to stay or get connected with pet owners in San Antonio, and sponsor a cause that's very important to them. North Park Subaru Loves Pets!
---
June Love Event: Subaru Loves to Help - Cristian Sandoval S
On 6/28/15, North Park Subaru hosted our "June Love Event: Subaru Loves to Help." The purpose was to help support fitness and wellness in our community. We partnered with Make-A-Wish Foundation (local San Antonio chapter), and Earn-A-Bike (a local outreach charity coop.) Make-A-Wish Foundation grants the wishes of children with life-threatening medical conditions to enrich the human experience with hope, strength and joy. Earn A Bike principles are to increase children's self-empowerment through the hands-on do-it-yourself transfer of skills and knowledge; engage the community through a cooperative model of sustainable development on a non-hierarchical basis; provide equitable, affordable and practical services with a priority to those in need; and to create a safe space based on mutual respect, tolerance, and acceptance for all. At the event North Park Subaru hosted a fun bike ride from the dealership on San Pedro to Hardberger Park on Blanco Rd. escorted by 2 SAPD officers. After the return of the riders, fun games began and delicious food was provided at the store, while people were entertained by great music and bike related clinics and shows. Make A Wish and Earn A Bike both spread the word about their charities and we helped raise funds to support both charities. The event raised awareness and showed support for local charities, and also increased health and wellness awareness. The event was a great success, and we thank all who volunteered & participated!
---
A Season of Wishes Come True... - SARAH C
North Park Subaru and Make A Wish Foundation work together anually to make a Season of Wishes Come True for children with life-threatenig medical conditions. North Park Subaru spends a months time inviting their employees, neighboring stores, and daily vistors to stuff a New Subaru Outback full of small unwrapped toys to create a Happy Holiday Season of wishes granted. Make a Wish Foundation has been a great partner in the campaign for community involvement by aiding North Park Subaru in fullfilling their Subaru Love Promise.
---